Bharat Ko Janiye Quiz
Posted on : 26 July 2018 | Back | Print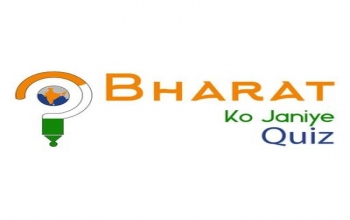 The Ministry of External Affairs is organizing the second edition of Bharat Ko Janiye (Know India) quiz, open to NRI, PIO, OIC and foreign nationals between the ages of 18-35 years.
The quiz will be conducted in 4 rounds. The first round of quiz test will open for the contestants from September 16 to 30, 2018. Overseas contestants can appear the quiz test from anywhere or any part of the world during this period. The quiz contsestants are not required to visit the Embassy to take the test. Top three winners of the 1st Round quiz will qualify for the second round which will be conducted by the Ministry of External Affairs in New Delhi, India. 3rd and 4th rounds (semi final and final round – onsite) will also be conducted by the Ministry in New Delhi.
Finalists from each category will be invited to India for a 15-day Bharat Ko Janiya tour. After the tour, the final round onsite will be held in New Delhi and the top 3 winners (NRI, PIO and Foreign national category) will be awarded Gold/Silver/Bronze medals at the Pravasi Bharatiya Divas Convention to be held in Varanasi, Uttar Pradesh in 2019.
The site presently features the following information:
Guidelines for BKJQ

General Rules

Quiz Structure including Registration Form

Know India (write ups)

Model Test

FAQs
Kindly register on the web portal https://www.bharatkojaniye.in by 15 September 2018.
Go to Top | Back | Print